More about this ring
Waterproof & Tarnish-Free
2 Years Warranty
Eco-Friendly Packaging
Free Shipping Worldwide
Easy Returns
Ride the waves all summer long with our best-selling simple, yet dainty, Wave Ring
Size : Fully adjustable, one size fits all 
Handcrafted in Stainless Steel, made to last
Water, Sweat, Heat Resistant (No Discolouring or Tarnishing) | Guaranteed not to turn your skin green
Delivered in a eco-friendly packaging & with a pack of stickers 

All our jewelry are made from the highest quality stainless steel, then plated with 18k gold using a technique called PVD (Physical Vapor Deposition). This new, modern way of plating, is ten times thicker than standard gold plating, is environmentally friendly and uses a vacuum coating process, resulting in an extremely durable finish.
This means that our jewelry are 100% waterproof so do your daily routine without having to take it off! You can wear your jewelry in the shower, to the gym and at the beach, they will never tarnish ! ✨
Limited Offer : Add at least 3 jewelry to your cart. Apply the coupon code GIFT at checkout, the least expensive item will be automatically offered 🎁
So when you have 3 items in your cart, you will pay only 2,
When you have 6 items in your cart, you will pay only 4,
When you have 9 items in your cart, you will pay only 6 etc...
Free Shipping : We ship worldwide for free 
Tracked Delivery : Once your package is shipped, you will receive a tracking number by email. 
We strive to process all orders within one to two days of ordering from our warehouse.
Packaging : All our orders are shipped in eco-friendly packaging and with a pack of free stickers ! 
Customer Reviews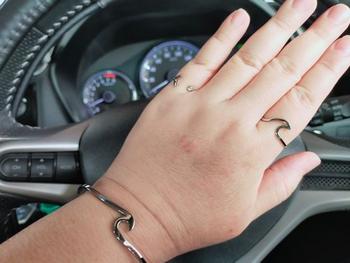 11/03/2021
Light ring, easy to wear but need to be careful with the closure as it pinches.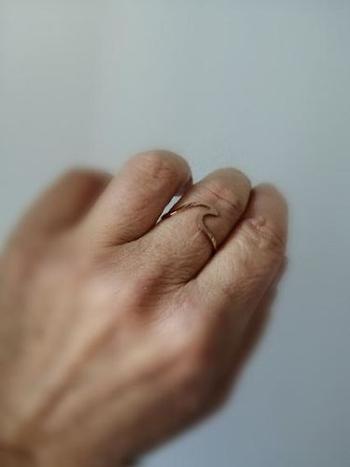 10/11/2021
This ring is really nice and confortable to wear... even in the shower! Also the gadgets included in the order are a very nice detail.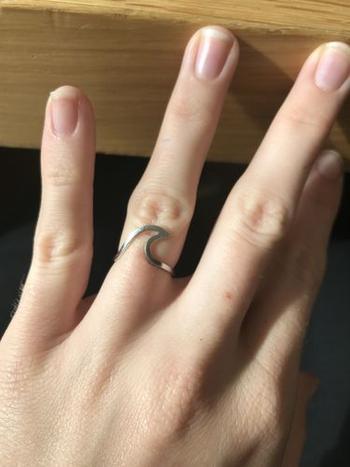 10/06/2021
I really like this ring. It's good, that you can adapt the size, but the endings of the ring sometimes scratch me or my clothes. That's only thing I don't like. The quality seems to be very good. I have it for a month, I swam with it in the sea, sleep with it, doing dishes,... The colour is still the same. Looks like new.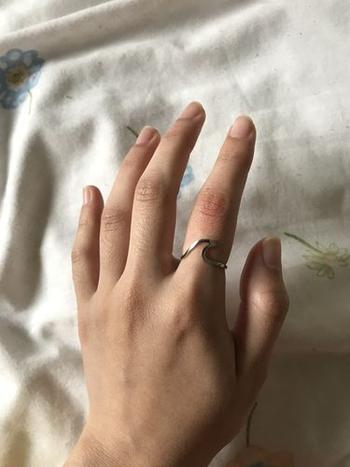 10/05/2021
I've been wanting a wave ring for ages! and I'm so happy that I was able to purchase one from Atolea. Love that it's a stainless steel and it fits perfectly on my fingers.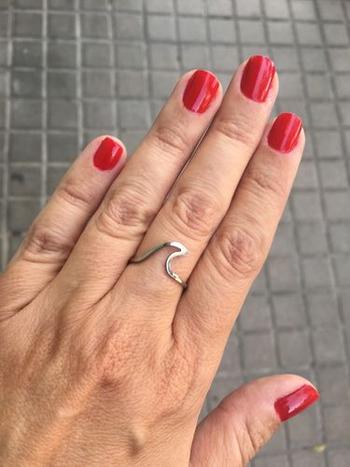 09/27/2021
Comfortable to use, elegant and very beautiful. I use it everyday since I got it a couple of weeks ago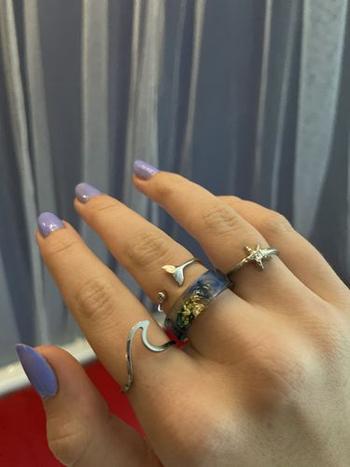 09/13/2021
I love the wave! It's just how I imagined it :) it's adjustable & perfectly fitting! I love the motive & it's very Good Silver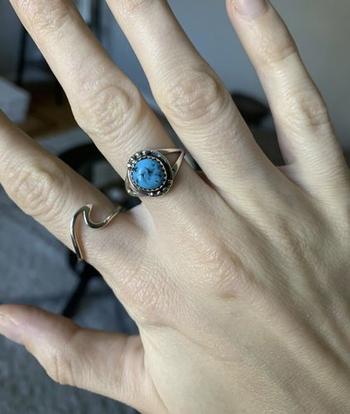 09/06/2020
I love my wave ring, I was so excited to receive it and i love how it looks & feels on my finger. Now I have a part of the Ocean with me all the time, I wear it every day.
02/02/2023
Great material and very pretty
Even though the ring is adaptive in size, it still looks very pretty while wearing it. Showering, doing the dishes and even salt water, it appears to be fine with all of it!
Lieselot V.

Netherlands
11/11/2022
Cute adjustable ring! Very delicate and has not tarnished !
11/07/2022
A ring that I have been looking for a long time! Good quality and adjustable.
1 YEAR WARRANTY
Water & sweat resistant
FREE SHIPPING WORLDWIDE
100.000+ happy customers
PLASTIC FREE PACKAGING
recently viewed products...