Freshwater Pearl Bracelet
More about this bracelet
Waterproof & Tarnish-Free
2 Years Warranty
Eco-Friendly Packaging
Free Shipping Worldwide
Easy Returns
A true (summer) stunner, our Freshwater Pearl Bracelet gives you that warm fuzzy feeling of long summer days and fun in the sun. Each tiny pearl that's strung along this bracelet is different and unique, just like you!
A precious piece of jewelry made from high quality stainless steel and coated in real 18K gold plated. We added a slightly longer extender so our Freshwater Pearl Bracelet fits all. 
Handcrafted with genuine mini freshwater pearls
Stainless steel and 18K Gold Plated
Waterproof - Shower, swim and exercise with it, the color remains perfect
Adjustable length: 15 cm + 3 cm extender
All our jewelry are made from the highest quality stainless steel, then plated with 18k gold using a technique called PVD (Physical Vapor Deposition). This new, modern way of plating, is ten times thicker than standard gold plating, is environmentally friendly and uses a vacuum coating process, resulting in an extremely durable finish.
This means that our jewelry are 100% waterproof so do your daily routine without having to take it off! You can wear your jewelry in the shower, to the gym and at the beach, they will never tarnish ! ✨
Limited Offer : Add at least 3 jewelry to your cart. Apply the coupon code GIFT at checkout, the least expensive item will be automatically offered 🎁
So when you have 3 items in your cart, you will pay only 2,
When you have 6 items in your cart, you will pay only 4,
When you have 9 items in your cart, you will pay only 6 etc...
Free Shipping : We ship worldwide for free 
Tracked Delivery : Once your package is shipped, you will receive a tracking number by email. 
We strive to process all orders within one to two days of ordering from our warehouse.
Packaging : All our orders are shipped in eco-friendly packaging and with a pack of free stickers ! 
Customer Reviews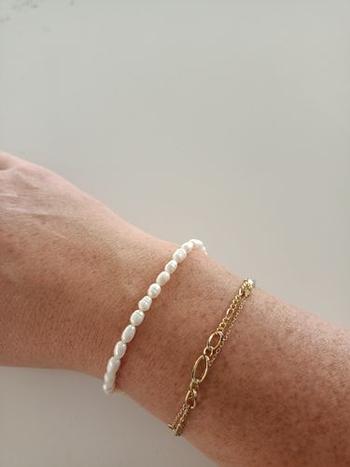 10/24/2022
Beautiful pieces. I haven't taken the bracelet off. It stacks really lovely. Long wait for post, but worth it.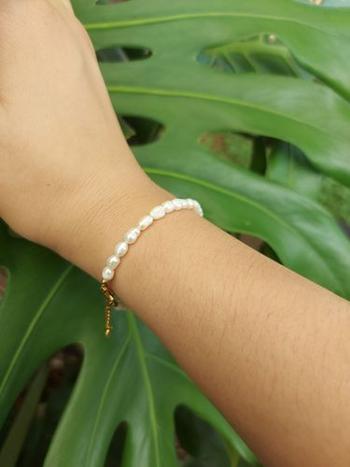 08/27/2022
My order came fairly quickly and the packaging was cute along with the many stickers. I absolutely love my bracelet, it makes me feel beachy and adds a cute dainty feel to every look. Can't wait to order again!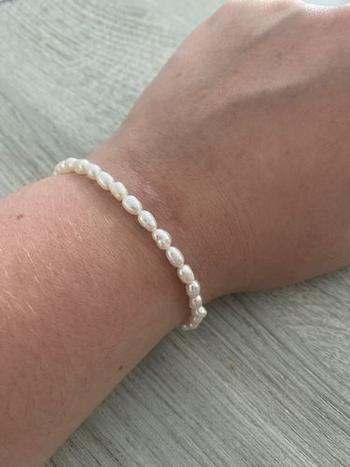 07/31/2022
Love the bracelet! Goed with everything! Doesn't feel like I'll lose it. Every pearl has a different shape, makes it quit unique.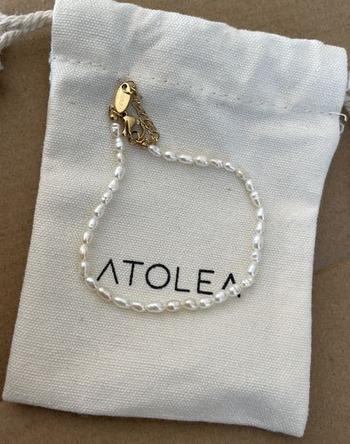 06/02/2022
bought the turtle necklace and this bracelet and really I am so happy with the quality, in one day I already got a lot of compliments about the bracelet :)
12/28/2022
Amazing bracelet
So beautiful and great quality! Will be ordering more jewelry to wear to the lake this summer
11/05/2022
Cute and very pretty on the wrist
10/11/2022
Really nice quality pearls and is very robust
09/28/2022
Just perfect for everyday wear
09/23/2022
Such a beautiful bracelet
08/14/2022
Nice piece in goor quality
07/30/2022
I really love this bracelet, it is so beautiful!
06/23/2022
quality is much better than some big jewelry brands, I wear it everyday and it's really waterproof
06/03/2022
seems like a really pricey bracelet, quality is amazing so REALLY HAPPY WITH MY PURCHASE !!!
2 YEARS WARRANTY
Water & sweat resistant
FREE SHIPPING WORLDWIDE
100.000+ happy customers
PLASTIC FREE PACKAGING
recently viewed products...